Ramsey War Memorial Hall is a village hall situated on Church Hill, Ramsey. The hall is provided for use of the local community and has been since the early 1900's, it is used by many local groups for educational and social activities.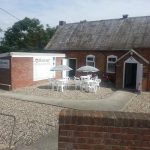 The committee is also responsible for the recreation site & play area.
  The hall also accommodates the War Memorial and each year we host a Memorial Service.
As well as use for private function hire, it is used as a meeting place and for social events like bingo, coffee mornings and many fundraising events. We also welcome regular yoga classes, Scottish dancing, Camera Club, Ladies Club and Boogie Shoes Dance Academy. The recreation facilities, sited at Wix Road, Ramsey CO12 5HP, are used by two local football teams and a youth team in 2014 the community joined together to help us raise money to replace outdated play facilities, we were delighted to be awarded funding from Tendring District Council Big Society, Essex County Council Community Initiatives Fund and Essex Environment Trust and our new facilities opened in October 2014. Our project to upgrade hall facilities is ongoing.
To contact us:
Suzanne Howe – Hall Secretary – 07858 363869(contact for all Booking enquiries)
Rob Passmore – Chairperson – 07813 856195(contact for all Pitch enquiries)
Email: ramseywarmem@gmail.com
www.facebook.com/RamseyWarMemorialHall
Twitter @ramseywarmem
Website: Ramsey War Memorial Hall and Playing Field
Registered Charity: 301380