The Parkeston Cemetery is a secure, secluded area promoting a peaceful atmosphere for visitors to enjoy.  The cemetery has a closed area dating back to 1905.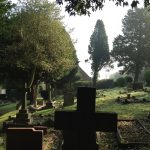 The Cemetery Lodge within the boundary is rented bringing in an income that is re-invested into the cemetery.
Projects throughout 2014/15 have included the installation of mock-stained glass windows onto the Chapel, replacing boarded windows and bringing out the original stonework.
Following the closure of St Paul's Church, Parkeston in 2014, the memorials to those lost in the two World Wars from Parkeston have been re-instated within the Chapel porch; these can be viewed by contacting the Clerk.
Parkeston Cemetery Open Area Plan
Parkeston Cemetery Closed Area Plan
Grant of Exclusive Right of Burial
To Erect and Maintain a Memorial